(The Center Square) – American voters would rather see lawmakers cut government spending than increase taxes, but new poll results show the cuts voters want would have little effect on the nation's $33.17 trillion in debt.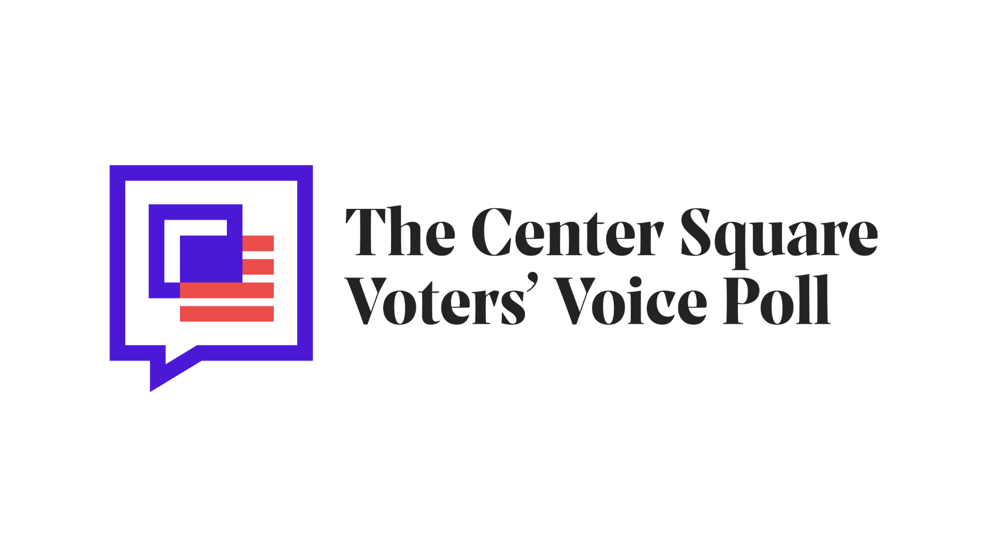 The Center Square Voters' Voice Poll, conducted in conjunction with Noble Predictive Insights, found that 65% of registered voters would opt to cut federal spending to address the growing deficit. Some 14% would rather increase taxes than cut spending. The rest were either unsure or wanted to deal with the deficit in the future.
The poll of 2,605 voters includes 1,035 Republicans, 1,074 Democrats, and 496 true Independents, and is among the most comprehensive in the country.
Of the registered voters who favor spending cuts, 75% would cut services for people in the U.S. illegally, 55% would cut diversity, equity, and inclusion programs, 32% would cut environmental protections, 23% would cut transportation spending and 23% would cut social safety net programs, such as the Supplemental Nutrition Assistance Program, formerly known as food stamps. The poll surveyed likely and registered voters. Non-citizens, including permanent legal residents, cannot vote in federal, state, and most local elections.
"American citizens tend to think that the government should spend money on American citizens," said David Byler, chief of research at Noble Predictive Insights. "So the percentage of Americans who are willing to spend on foreign aid or on undocumented migrants is going to be low."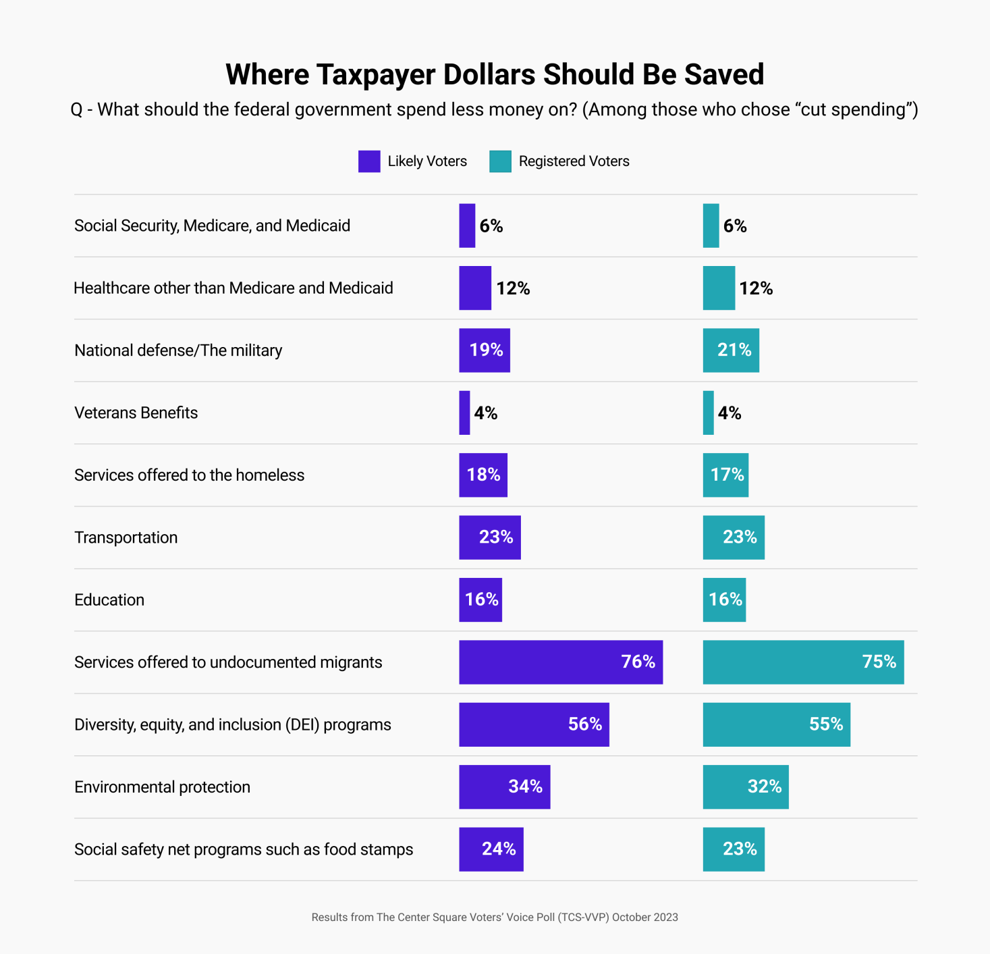 The Federation for American Immigration Reform, a non-partisan, public interest group, estimated the total net cost of illegal immigration was $150.7 billion in 2023, including $66.4 billion in federal spending. The single largest expenditure by category in the fiscal year 2023 was $1.35 trillion for Social Security, according to the U.S. Department of the Treasury. Put another way, the federal government spent more than 20 times as much on Social Security than illegal immigration.
But cuts to major spending categories were less popular. Some 6% of registered voters would cut Social Security, Medicare, and Medicaid. About 12% would cut health care spending other than Medicare and Medicaid, and 21% would cut spending on national defense and the military.
"You can clearly see in the polling why there's such a logjam in Washington on this," Byler said. "Because people say they want to cut spending, but say 'hey, don't cut spending in any of the areas that are the biggest expenditures.'"
About 51% of annual federal spending in fiscal year 2023 was for the Department of Health and Human Services and the Social Security Administration, according to the U.S. Department of the Treasury. The biggest drivers of the national deficit are spending on Social Security, Medicare, Medicaid and other entitlement programs.
"There is a little bit of a chicken and egg situation happening here," Byler said. "People wonder, why is it that Congress can't rein in spending and can't cut the budget deficit and won't cut entitlement programs? The reason is that their constituents don't want that."
Of the voters who want to raise taxes, most want the wealthy and corporations to pay more. Seventy-five percent of registered voters said they want people making more than $200,000 a year to pay more in taxes, and 69% said they want corporations to pay more in taxes. About 10% said they want individuals and businesses to pay more through a higher sales tax.