(The Center Square) — Newly revised Gross Domestic Product data shows that the U.S. economy grew by 2.1% in the second quarter of 2023, lower than previously reported by the federal agency.
The U.S. Bureau of Economic Analysis released the revised GDP numbers Wednesday, which are lower than the advance figure of 2.4%.
"The GDP estimate released today is based on more complete source data than were available for the 'advance' estimate issued last month. In the advance estimate, the increase in real GDP was 2.4 percent…" BEA said. "The updated estimates primarily reflected downward revisions to private inventory investment and nonresidential fixed investment that were partly offset by an upward revision to state and local government spending."
GDP in the first quarter of this year rose 2%.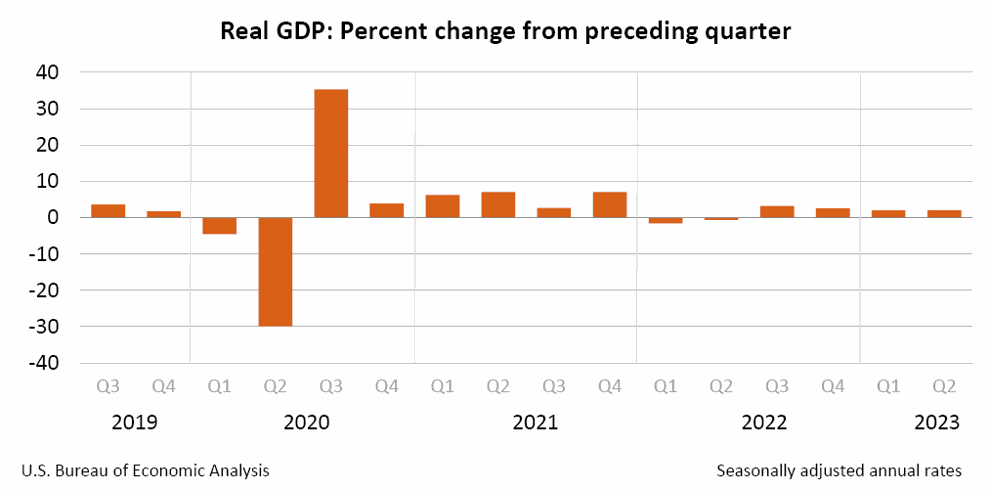 BEA also tracks Americans' personal finances, reporting that disposable income increased.
"Disposable personal income increased $284.5 billion, or 5.9 percent, in the second quarter, an upward revision of $36.3 billion from the previous estimate," BEA said. "Real disposable personal income increased 3.3 percent, an upward revision of 0.8 percentage point.
"The personal saving rate — personal saving as a percentage of disposable personal income — was 4.5 percent in the second quarter, an upward revision of 0.1 percentage point," BEA added.
As The Center Square previously reported, the latest consumer confidence data shows Americans are less optimistic about the U.S. economy. Those surveyed cite the labor market as well as increases in the cost of groceries and gas.