(The Center Square) – Nearly 90% of U.S. voters are concerned about fentanyl trafficking as drug overdose deaths continue to mount in the U.S. ahead of the 2024 election, according to a new poll.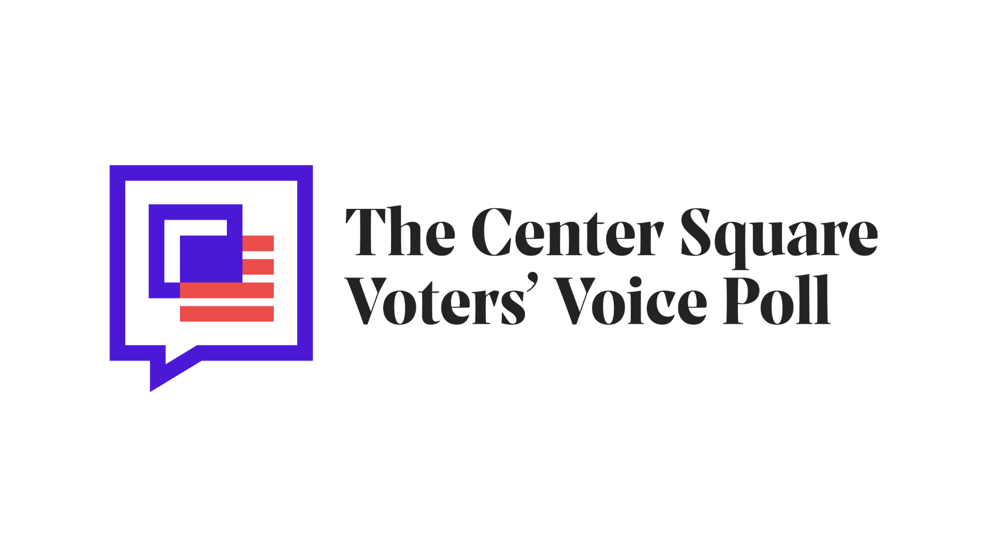 The Center Square Voters' Voice Poll, conducted by Noble Predictive Insights, found that 57% of those surveyed are very concerned about fentanyl overdose deaths. An additional 32% are somewhat worried, or 89% overall indicating some level of concern.
By contrast, 7% of the 2,500 registered voters surveyed said they aren't concerned about fentanyl overdose deaths. Another 3% said they were unsure about fentanyl, according to poll results.
Fentanyl is a potent synthetic opioid that has played a significant role in the increase in drug overdose deaths. U.S. officials reported 107,735 overdose deaths between August 2021 and August 2022 from drug poisonings, according to the U.S. Centers for Disease Control and Prevention. About 66% of those deaths involved synthetic opioids such as fentanyl.
"Surprisingly, 9 in 10 at least had some level of concern when it came to fentanyl," said Mike Noble, founder and CEO of Noble Predictive Insights.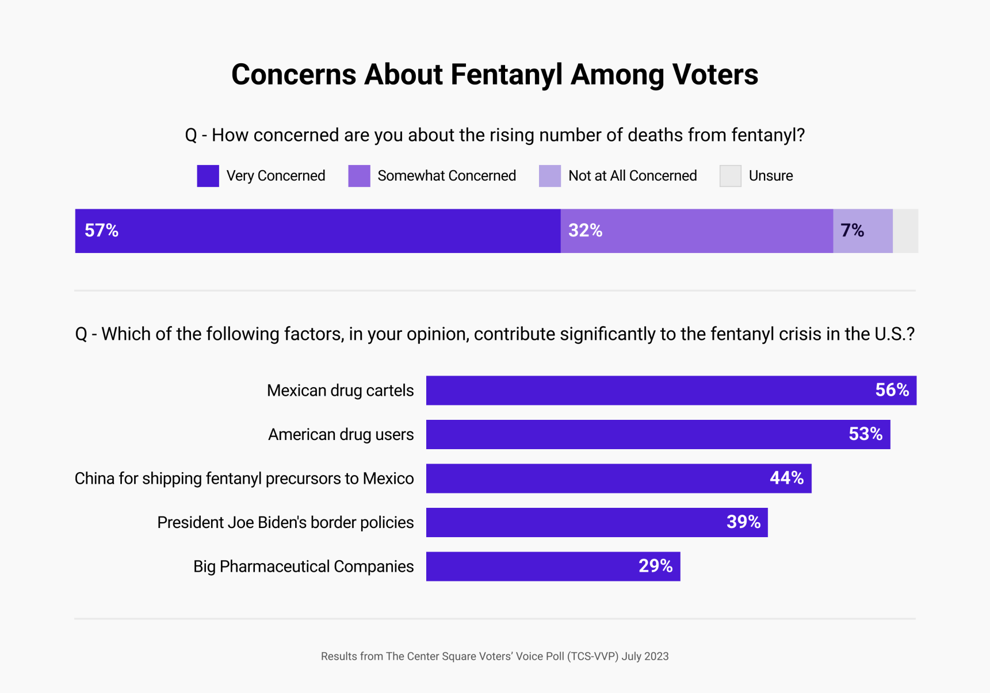 Voters blame Mexican drug cartels (56%) the most for the overdose problem, and American drug users themselves (53%) the second most.
Blame also was put on Chinese companies that ship precursor chemicals (44%), President Joe Biden's border policies (39%) and pharmaceutical companies (29%).
Voters who place the highest amount of blame on American drug users tended to be Democrats (61%) and Republicans who would prefer Florida Gov. Ron DeSantis (57%). For Republicans as a whole, it was 46%.
Voters who place the most blame on Mexican drug cartels tended to be 55 and older (62%) and Republican (65%) along with voters whose top issue was illegal immigration, according to the poll.
Forty-four percent of men and 69% of Republicans blame Biden's border policies. In results of The Center Square Voters' Voice poll released Tuesday, 82% responded that they are concerned about what's going on at the border, with 47% saying they are very concerned and an additional 35% saying they are somewhat concerned. Just 13% said they are not concerned at all and 4% are unsure.
"This issue, as we clearly uncovered, is a concern among voters, but yet in the public policy space, I don't think it's being talked about nearly as much as it should be," Noble said of fentanyl.
Earlier poll results in The Center Square Voters' Voices Poll indicate the GOP frontrunners, former President Donald Trump and DeSantis, would be locked in tight races with Biden; that Biden is largely under water with voters in a number of key descriptors; that inflation, crime and the economy/jobs are the top issues for voters; and voters are concerned about excessive government spending but it's not their top concern.
The poll was conducted by Noble Predictive Insights from July 31 to Aug. 3. Unlike traditional national polls, with limited respondent count of about 1,000, Noble Predictive surveyed 1,000 registered Republicans, 1,000 registered Democrats, and 500 independents, culminating in a sample size of 2,500. The margin of error for the aggregate sample was ±2.4%, with each political group independently weighted. For information about the methodology, visit www.noblepredictiveinsights.com.