(The Center Square) – The federal government wasted over a half a trillion dollars in improper payments during the first two years of the Biden administration, a new analysis from a spending watchdog group found.
The analysis comes from Open The Books, which reports that 82 programs across 17 agencies made improper payments in fiscal year 2022 alone, averaging $20.5 billion per month, or $683 million per day.
"In total, federal agencies made an estimated $247 billion in improper payments in fiscal year 2022, which is less than the all-time high of $281 billion in FY 2021 but still more than every other previous year, even when adjusting for inflation," the report said.
The group said the apparent decrease from 2021 to 2022 is only because the reporting and eligibility requirements for these payments were changed due to COVID-19, not because of a substantive decrease.
"In 2022, the incorrect payments totaled $1,673 for every individual tax return filed that year. (167,915,264, according to the IRS)," said Adam Andrzejewski, CEO of Open the Books. "They amounted to $846 for every man, woman, and child in the country. So, the government wasted $3,384 for every family of four – an amount equal to two average mortgage payments. (331,893,745, U.S. pop in 2021, from U.S. Census Bureau website)."
Feds were able to secure an "actual recovery rate" of 9% of the improperly paid funds.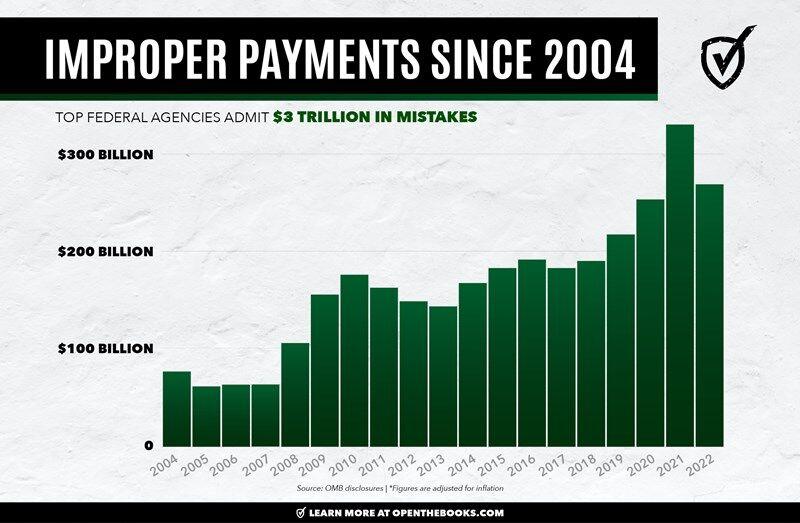 Improper payments can occur because of deceptive fraudsters or from agency errors, such as the $532.5 million that went to dead people in 2022. Dead people received $441.7 million in 2021 in mistaken payments.
"Federal retirement services (pensions), old-age, survivors, and disability insurance, and social security were sent to dead recipients," the group said.
In particular, the spike in COVID-era programs and payments led to a rise in waste, fraud and abuse. The more time passes, the less likely the Feds are to recover those funds.
"In 2021, the Small Business Administration overpaid $671 million in improper payments," the report said. "That number ballooned to $37.3 billion in 2022, due mostly to the Paycheck Protection Loan Program and COVID Economic Injury Disaster Loan program – $35.9 billion combined."
Open The Books found that the worst offending agencies in 2022 were the "Department of Health and Human Services' Medicaid ($81 billion); HHS's Medicare – consisting of several parts – ($47 billion); and Small Business Administration's Paycheck Protection Program ($29 billion)."
Improper payments have been an ongoing problem, with agencies reporting nearly $3 trillion in improper payments since 2004.
"While lawmakers fight over how many trillions to spend per year, every dollar blown hurts the taxpayers and fails a critical mission," Andrzejewski said.