(The Center Square) – Groups of mostly single military-age men are encamped on the sidewalk and alleyway next to Sacred Heart Catholic Church in downtown El Paso, even after many had been cleared out earlier this week. Thousands had congregated in the area after being released by the Biden administration after they'd entered the U.S. illegally ahead of the public health authority Title 42 ending at midnight Thursday.
Prior to its end, The Center Square observed El Paso Police Department officers clearing the encampment next to the church for a street cleaning crew to come through.
The mostly Latino foreign nationals were moving donated blankets, bedding and other items in boxes that were piled up on street corners and sidewalks ahead of the street cleaning. They do this every day, a police officer told The Center Square.
Men who came up to a Center Square reporter spoke no English and asked for money. One was bathing using a bucket of water on the sidewalk.
The area has been inundated with foreign nationals committing and becoming victims of crime, Texas DPS Regional Director of the West Texas Region Jose Sanchez told The Center Square. He also said the new group of people being released by the Biden administration "are very entitled. They've been giving us a lot of resistance. They don't have respect for law enforcement. They don't have respect for the citizens here."
Sanchez said gangs are controlling the streets.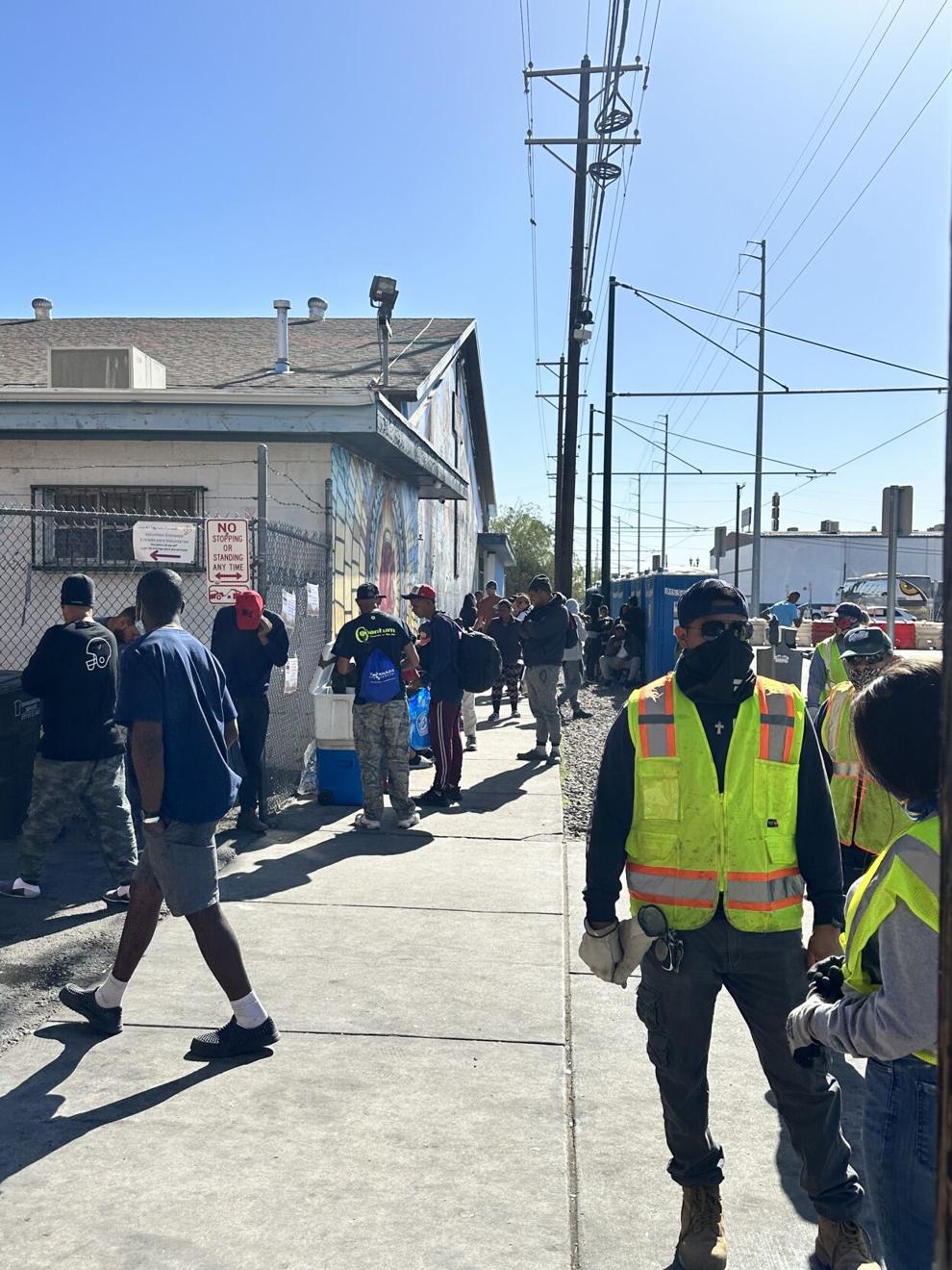 "The problem we had downtown with all the migrants and homeless population increasing," he said, is that transnational gang members took over the streets. If homeless illegal foreign nationals wanted "to get in the chow line at the front," where free food was being offered, he said, they had to pay the gangs.
Local resident Dolores Chacón asked, "why are they being released here in the Second Ward?" She grew up in the neighborhood and told The Center Square, "It breaks my heart to see what is happening. Why just here? Because we're poor? Because this is 915, the poorest zip code? Why do we have to suffer? Our elderly, people in wheelchairs, they can't use the sidewalk."
She asked why those being released "have more rights than we do? Why?"
Chacón also said the situation was "degrading" and "insulting. I'm insulted. It breaks my heart," adding that she was also speaking for her neighbors, not just herself.
El Paso County Judge Ricardo Samaniego told KTSM News that those outside of Sacred Heart "are not the thousands that we had … A lot of them have left and gone back to get processed and done it the right way and now our process center is beginning to receive more and more."
Samaniego also said he expected fewer people to enter from Juarez, Mexico, because 250 Venezuelans were "taken back" to Mexico. However, in a video message published to the local community, he said, "with the expected rollback of Title 42 we expect that the number of persons migrating into our community will increase." He also encouraged residents to "be vigilant when driving down the border highway … as migrants are frequently crossing the roadway."
The increased presence of military and law enforcement in the area, he said, was "meant to facilitate a peaceful transition from Title 42 to Title 8," although Title 8 has always been in effect and is the federal law that determines admission or expulsion from the U.S.
"This will be a challenging moment for our community," he added. "But it is important to recall that this challenge is fundamentally a humanitarian one." He said multiple officials, faith communities and non-governmental organizations were "working around the clock in close coordination" to "provide hospitality and care."
Bishop Mark Seitz of the Diocese of El Paso also spoke in the video message, saying, "our community has made it through the most difficult of times," including "previous migrant surges. Each time, we get through it by pulling together, not by being divided. This is another situation where we need to be 'El Paso Strong.'"
Local governments were "also supporting this important work with additional facilities and logistical operations to ensure their safe, humane and efficient processing through our community."
He also claimed, "the travel of the migrants is paid for by the migrants or their sponsors," in direct contradiction to information published by the city. Over $26 million worth of taxpayer money allocated by FEMA to the city covers their transportation, housing, food and other services free of charge.