(The Center Square) – The federal government is directing U.S. Border Patrol agents to release foreign nationals into the U.S. with "Notice to Appear/Warrant to Appear" forms for immigration court in 2026.
The Center Square obtained documents provided in a packet to foreign nationals who were processed by Border Patrol agents in Brownsville, Texas, were released and later apprehended in Jackson County, 260 miles north. Highway 59 is a major human smuggling route where an Operation Lone Star Task Force is operating to interdict criminals, state officials say.
Jackson County Sheriff Kelly Janica and his deputies are key players in the task force who've been involved in a range of interdiction activities, from seizing stolen cars, to apprehending smugglers, to arresting other perpetrators and fugitives.
Biden administration policies have been "an unmitigated disaster," Janica argues, but now the "federal government is involved in legalized smuggling," he told The Center Square.
Janica contacted The Center Square to describe a recent incident his deputy encountered.
On May 2, one of his deputies noticed a silver Toyota Tundra heading north on Highway 59 with five people sitting in the bed of the truck. The deputy pulled over the vehicle believing the group to be foreign nationals being smuggled north from the border.
According to his report, he observed "multiple Hispanic passengers in the bed of the truck and multiple Hispanic passengers in the cab."
The driver, a 36-year-old man from Humble, said he was the son of a 63-year-old man sitting in the passenger seat to whom the vehicle was registered.
The deputy asked if all the occupants in the vehicle were in the U.S. legally and the driver said they were family members from Honduras who they picked up in Brownsville, Texas, and were driving to North Carolina.
All 11 being transported had Honduran identification cards or passports and were between the ages of 5 and 73, including four men and four women each, two boys, and one teenage girl. Three were minors, ages 5, 9 and 16.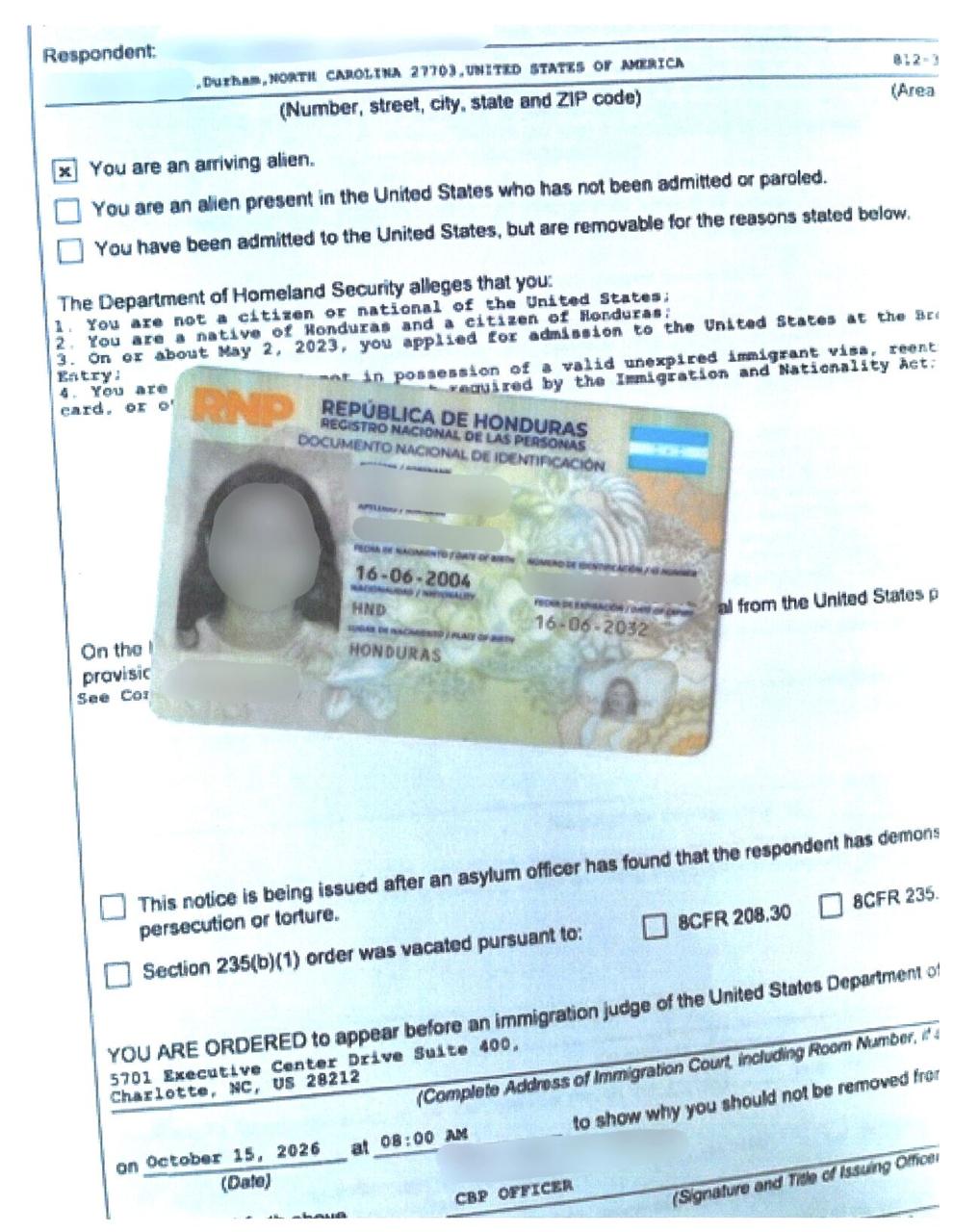 They all had manila envelopes including "Notice to Appear/Warrant to Appear" papers, which are what Border Patrol agents give foreign nationals when they release them into the U.S.
The document states, "You are an arriving alien. The Department of Homeland Security alleges that you: 1. Are not a citizen or national of the United States; 2. You are a native of Honduras and citizen of Honduras; 3. On or about May 2, 2023, you applied for admission to the United States at a Brownsville, Texas, Port of Entry; 4. You are an immigrant not in possession of a valid unexpired immigrant visa, reentry permit, border crossing card or other valid entry document required by the Immigration and Naturalization Act.
"On the basis of the foregoing it is charged that you are subject to removal from the United States pursuant to" several federal laws listed.
They were all ordered to appear before an immigration judge at a court in Charlotte, North Carolina, on Oct. 15, 2026.
The deputy contacted Border Patrol to confirm their paperwork and was told they were apprehended on April 23 and had been released pending their immigration hearing in over three years.
"Border Patrol advised they would not take them and they were free to go," the deputy said.
Janica contacted The Center Square, alarmed by what he says is the Biden administration "finding a way to get people into country under the auspices of a court proceeding in three years, moving people across the country to North Carolina."
"They said they were all family members," the sheriff said, but "we don't believe that for one minute."
Under normal circumstances, if federal law were being enforced, Janica said his deputy would have arrested the driver and front passenger and they would've been charged with human smuggling. The reason they couldn't arrest them is because Border Patrol said they wouldn't come and get them; a court date in 2026 was enough to release them, he said.
"We really don't know where they're going. That's just a piece of paper the federal government gave them so they don't have to come and get them," he said.
Janica said law enforcement expects to see more of this after the public health authority Title 42 expires on May 11. They'll be coming "on a party bus," he told The Center Square, "and at our expense," meaning the taxpayers'.
He also said the federal government is "preventing law enforcement from doing their jobs."
In a previous stop, his deputies apprehended 22 people they believed were "illegal aliens but they each had brand new U.S. passports. They were heading to Florida. They were being driven by a Mexican national who was hired by a third party funded by U.S. government to drive the 17-passenger van," Janica said.
His deputies called Border Patrol, who said the 22 people had been apprehended and released a few days before his deputies stopped them. Border Patrol said, "they were good to go. There was nothing we could do, we had to release them."
"How were they American citizens if they'd just come across the border?" he asked. "How did they get brand new passports?"
"It takes my residents 6 to 10 weeks to get a passport. How did they get a passport in two days? Something's going on down there that the American people don't know about."