(The Center Square) – Texas Department of Public Safety troopers working as part of Operation Lone Star have stopped over 8,700 human smuggling attempts since Gov. Greg Abbott launched the state's border security mission in March 2021.
"Without Texas' historic efforts," hundreds of thousands of foreign nationals who've illegally entered the U.S. as well as an untold number of weapons and enough fentanyl to kill everyone in the U.S. "would have flowed into our country," the governor argues.
DPS troopers and Texas National Guard members continue to work with local law enforcement to secure the Texas-Mexico border. This includes preventing, detecting, and interdicting transnational criminal behavior between ports of entry primarily along Texas roads and highways and throughout neighborhoods to thwart trafficking and smuggling of people, drugs, weapons and currency.
Because they aren't stationed along the border or at ports of entry, officers are catching smugglers through routine traffic stops and engaging in high-speed pursuits on county and state roads.
During traffic stops alone, DPS troopers rescued 39,100 illegal foreign nationals whom smugglers attempted to transport from stash houses and border regions to primary human trafficking hubs like Houston, El Paso and other large cities. Among those rescued were roughly 900 unaccompanied minors.
OLS officers continue to apprehend single military age men wearing camouflage who've illegally entered between ports of entry and mostly at night in small border communities.
In Kinney County, a DPS brush team located and arrested 14 Mexican men who were all dressed in camouflage trying to avoid detection on a private ranch. They all face criminal trespass charges.
In Webb County, DPS aircraft personnel observed a Mercury Grand Marquis that stopped on the shoulder of a road. Four people got out and ran in different directions, some into cars. Border Patrol agents then pursued those who fled and eventually caught them.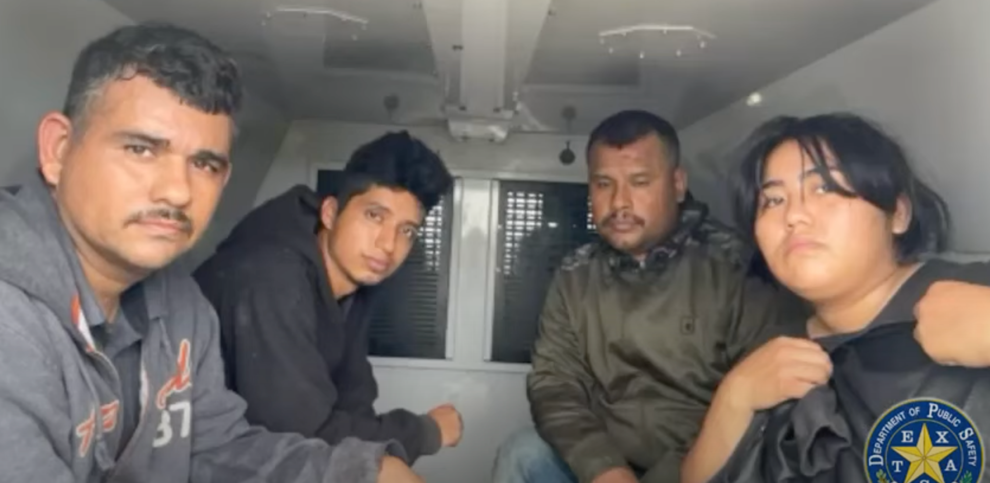 The driver continued and a DPS trooper engaged in pursuit. The driver eventually crashed into a cement barrier and appears to have broken his leg. He and a passenger, both 18-year-olds from Laredo, were arrested and charged with smuggling of persons.
The driver, passenger, and one illegal foreign national still inside the car suffered injuries from the crash and were transported to a local hospital. The four who ran were eventually caught by Border Patrol agents.
In Hidalgo County, a human smuggler from Mission, Texas, led DPS troopers on a high-speed pursuit on Bentsen Palm Road. The driver ran through stop signs, nearly hit other vehicles and then turned onto a dirt road. Due to his high speed and uneven dirt terrain, the driver lost control and the truck rolled over on its side.
As the troopers approached, Mexican nationals who'd illegally entered the U.S. and were hiding inside the truck climbed out and ran. Some jumped into a bayou and tried to evade arrest. The troopers arrested the driver and apprehended five Mexicans who were turned over to Border Patrol agents. The driver faces charges of evading arrest and smuggling of persons.
However, several others, including at least two women who were inside the truck, jumped out, climbed through a wire fence, trespassed on private property and ran into the local neighborhood. They weren't caught and remain at large.
Meanwhile, the Texas National Army and Air Guard are preparing for the end of Title 42 on May 11.
Guardsmen recently engaged in a bridge surge exercise in Eagle Pass. One who participated in the drill, Pfc. Jackson, said, "This is the first time we've done a drill like this. I know that this is a real scenario with Title 42 possibly ending right around the corner. It's a bit more advanced than our own CDO [civil disturbance operations] training."
In other areas, guardsmen and engineers are installing additional razor wire, constructing barriers, and deploying other strategies to stop illegal crossings in the El Paso region. One soldier said his team has installed roughly 720 feet of razor wire every day. They're also setting up 50 rolls of razor wire around Gate 36, which has been rushed by foreign nationals in the past.
"By limiting access and controlling the flow of people through Gate 36, we hope to prevent [groups rushing the gate]," Pfc. Carver Dyck said, adding he was "extremely proud to be part of SRT 4. We're making a massive difference."
Since Abbott launched OLS, as of April 28, law enforcement officers have apprehended over 369,000 illegal foreign nationals and made over 27,000 criminal arrests, with more than 25,000 felony charges reported. They've also seized over 383 million lethal doses of fentanyl, enough to kill more than everyone in the U.S.
Abbott argues they're filling "the dangerous gaps left by the Biden Administration's refusal to secure the border. Every individual who is apprehended or arrested and every ounce of drugs seized would have otherwise made their way into communities across Texas and the nation due to President Joe Biden's open border policies."