(The Sentinel) – Shawnee Mission School District has announced that Dr. Tyrone Bates Jr. is resigning effective at the end of this school year, after four years as the district's first coordinator of Diversity, Equity and Inclusion.
Bates will continue his DEI efforts at a consulting firm he founded.
Bates' hiring in 2019  was the result of a series of demands from a Shawnee Mission parent group to improve services to a more racially and socio-economically diverse student body.
During Bates' tenure, the issues of DEI and Critical Race Theory were debated in the wake of the 2020 killing of George Floyd. Bates spoke at an educators' march in Johnson County that protested the killing.  Bates also infamously rationalized the teaching of gender transitioning to kindergarten students.
We asked Dr. Bates what he believed his impact was in his Shawnee Mission position. He did not respond to our request, but told the Shawnee Mission Post among his accomplishments were:
The creation of a DEI Team at each building in the district
The development of "Affinity Groups," which help to recruit and retain staff from marginalized populations
Student Equity Leadership Teams which "support the creation of spaces at decision-making tables for student voices."
We also reached out to ask how he felt his efforts advanced student achievement in USD 512. Again, he did not respond; but we posed the same questions on Bates' tenure to Superintendent Michelle Hubbard, who offered this response:
"In our five-year strategic plan, created by the Shawnee Mission community, one of our five district-wide strategies is 'We will relentlessly create a fully unified, equitable and Inclusive culture.'As such, the work of diversity, equity and inclusion could never be considered the work of any one individual. Rather, it is the work of the entire system.
"In the time that Dr. Bates has served in the coordinator role, the district has established teams to focus on DEIB (Diversity, Equity, Inclusion and Belonging) at each school building, and worked to train equity practitioners to support the building teams. Additional work has focused on recruiting and retaining a diverse staff and providing opportunities for increased student voice at both the school and district levels.
"I would never want to tie the student achievement of more than 26,000 students to the work of any one individual."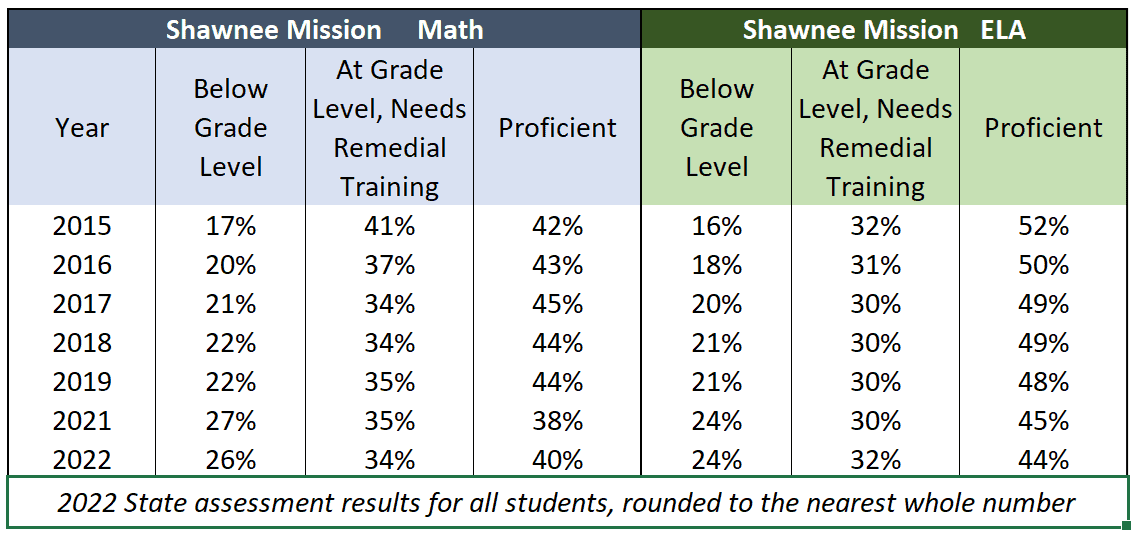 It's not surprising that Bates and Hubbard are unwilling to discuss student achievement because Shawnee Mission, as most districts, doesn't want parents to know that proficiency levels are much lower than they might think.  Math and reading proficiency in Shawnee Mission has fallen to 40% and 44%, respectively, and the high school results are much worse.
The declines coincide with the Department of Education de-emphasizing academic preparation with the introduction of its Kansans Can program in 2016.  The emphasis on DEI and the tenets of critical race theory have also supplanted emphasis on academics.
Shawnee Mission's strategic plan makes no mention of improving the district's low achievement levels in the sections on Beliefs and Mission, but DEI elements are front and center.  One of the objectives says, "Every student will achieve academic success through a challenging, relevant personalized learning plan," but that clearly is not the case, with a quarter of students below grade level in reading and math and less than half being proficient.