(The Sentinel) – Student achievement is precipitously dropping in Olathe USD 233, but district administration and the board majority seem more concerned about an equity audit and pushing the tenets of critical race theory under the guise of diversity, equity, and inclusion (DEI).
The district paid a Kansas City firm an undisclosed amount in 2021 to conduct an "equity audit" of its operations, and the results will be revealed in a mid-December workshop for board members before it is shared with the public.
The website of Sophic Solutions, the organization contracted by the district, says it stands "against inequity and injustice of any kind" but won't say if that includes the severe race-based and income-based educational discrimination that persists in Olathe.
Hispanic and Black high school students in Olathe are about twice as likely to be below grade level in math than White students, and White students are more than twice as likely to be proficient. Income-based discrimination is worse, with students who are not low-income being three times as likely to be proficient.

Proficiency levels are roughly a third lower than in 2015. For example, low-income proficiency dropped from 16% to 11% and from 43% to 30% for White students.
Superintendent Brent Yeager's $250,000 contract for this school year promises him a 10% bonus of that amount for successful achievement of the goals set forth in this document provided by the school district. Academic "achievement" accounts for 40% of his bonus, but the criteria are about implementing systems, not improving achievement. But Yeager must develop an "action plan" to address recommendations from the upcoming Equity Audit and to embed DEI programming throughout the district.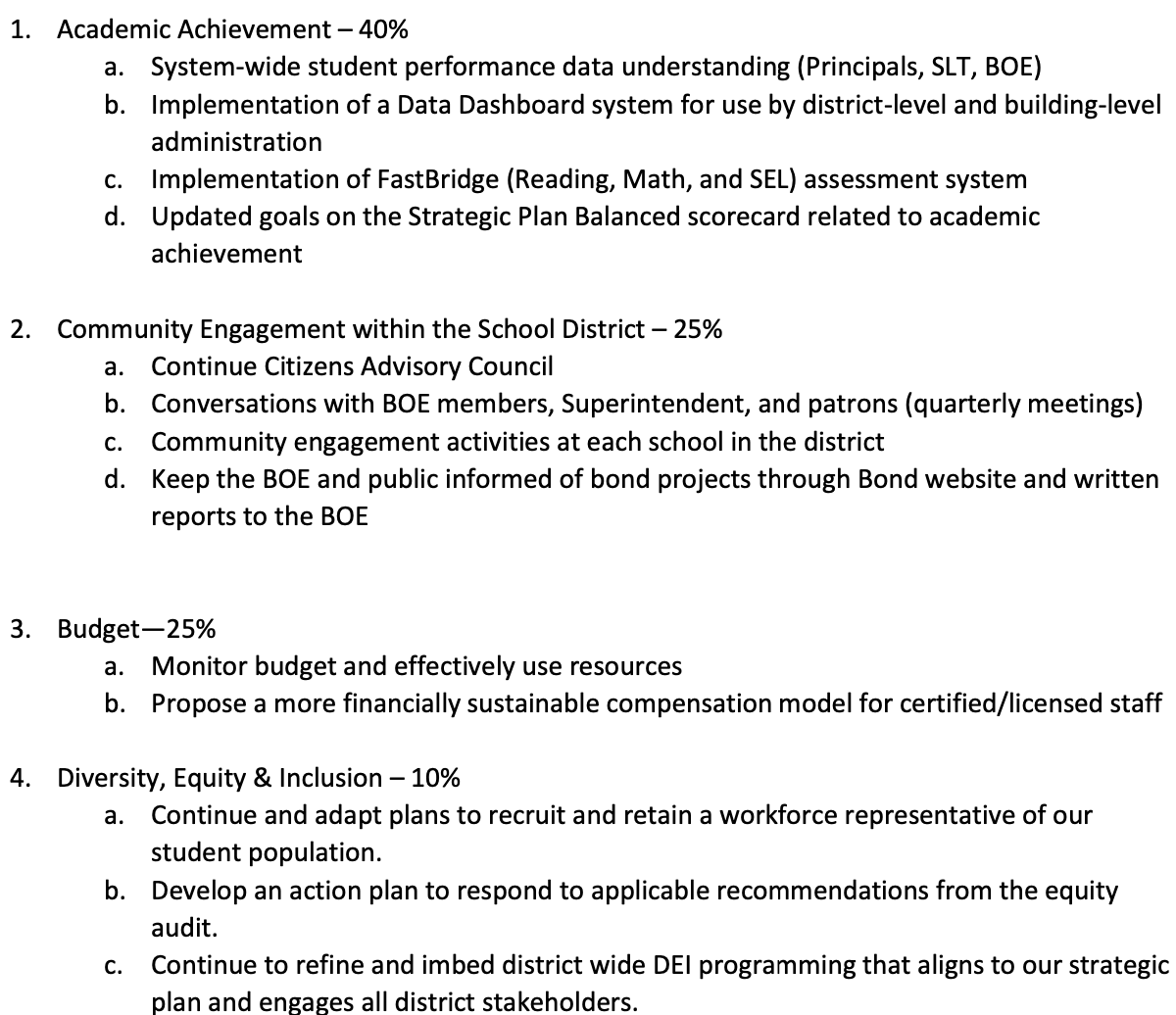 The Sentinel reached out to Sophic Solutions with questions about the audit, such as what items are covered, who at the school contacted them initially about undertaking the survey, and why it took more than a year to complete, but the company did not respond.
USD 233 Board Member Brian Connell offered this insight into the process:
"The Equity Audit, as commissioned by the sitting OPS BOE in Summer 2021, was completed and finally in draft form earlier this Fall (2022). The OPS BOE has scheduled a workshop in mid-Dec 2022 to have the Equity Audit presented by the firm (Sophic Solutions) that was contracted to do that work. At some point in the near future, after that BOE workshop, it is expected that a finalized version of the Equity Audit will be presented & released to the public in a BOE meeting.
"I have no other info that I can share at this time. "
We tried to ask district spokespeople and Assistant Director for Diversity and Engagement Marquis Harris if the public can attend the district workshop, but phone calls were not returned.
Additionally, we searched archived board meeting minutes from the summer of 2021, the time period indicated by Connell that the contract with Sophic Solutions was finalized, to find the payment authorized by the board, but none was recorded in the "Action – Bids, Contracts, Agreements" sections.
Sophic Solutions is the organization that helped Pembroke Hill School go "woke."