(The Center Square) – Home buyers in Missouri must possess determination and patience to purchase a house in the current market. If you're selling, the price of your house is rising because of increased demand.
The number of houses for sale in Missouri declined 55% in March compared to March 2020, according to data from Missouri Realtors, the state association. The average number of days a house is on the market decreased from 69 during the first quarter of 2020 to 44 during the same period this year.
"We have a very low inventory here, probably the lowest we've had in a while," said Terry Baker, association executive with the Southeast Missouri Realtors. "It is definitely making it more challenging. Most of our members have lots of buyers, but sellers are hesitant."
But that sentiment might be changing in some areas. Those who've delayed selling their home are seeing demand drive up prices.
The average selling price of a Missouri home in March was $244,940, up 19.5% compared to March of 2020 and 27.4% compared to 2019. Despite the increases, Missouri remains one of the top states in the Midwest and the United States in affordable housing.
"It's definitely an interesting market and I don't think it is easing up," said Josh Voyles, a real estate agent with Keller Williams Southwest in St. Louis. "If anything, it certainly continues to be more and more aggressive. More people are starting to see the market is up so much that they want to get their houses on the market. If you're ready to make the move, you're good to go."
Low interest rates contributed to the sale of 7,001 homes in March in Missouri, an increase of 12% compared to last year. The Federal Home Loan Mortgage Corp., known as Freddie Mac, reports the average rate on a 30-year fixed-rate home loan was 2.97% last week, down from 3.45% a year ago and 4.27% in 2019. However, rates are predicted to rise. Nadia Evangelou, an economist and director of forecasting for the National Association of Realtors, wrote last week, "Nevertheless, expect rates to move above 3% in the following weeks as the economy begins to recover."
Voyles sees a trend where young couples are being assisted by their parents when they purchase a home.
"There are people cashing in their retirement plans and lending cash to their children to buy houses," Voyles said. "If you can get access to cash, you are going to be at the top of the (buyer's) list."
However, before buyers' offer gets to the top of the list, they must often dedicate significantly more time and effort toward monitoring listings than in previous housing markets.
"It's not unheard of for people to miss out on four, five or even 10 offers on houses," Voyles said. "I know of one house where the asking price was $140,000, it sold for $167,000 and had 32 offers."
The total March sales volume in Missouri was more than $1.7 billion, an increase of 33.9% compared to last year.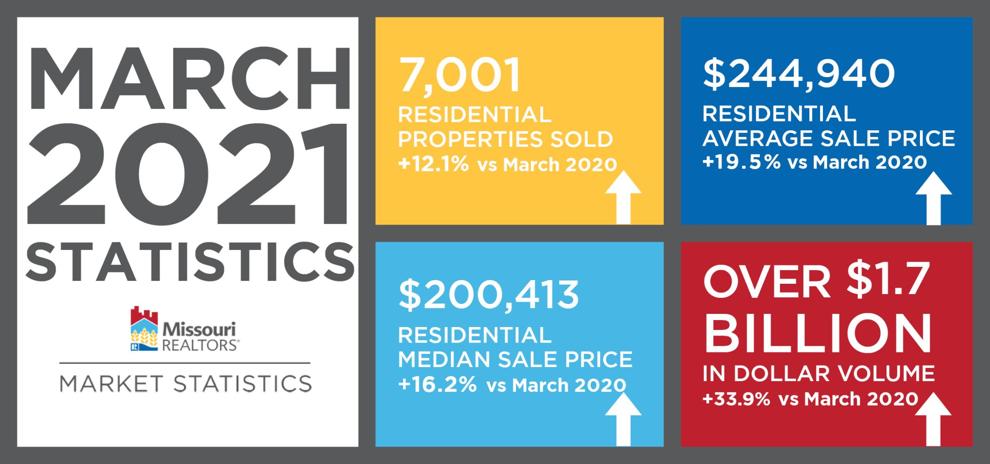 Market Statistics for residential real estate during March, 2021.
Missouri REALTORS®